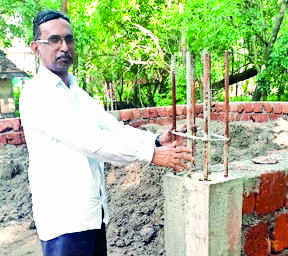 KOZHIKODE: Schoolteacher Mohammed Musthafa PT can't see, but blindness doesn't come in the way of either his teaching or vision for impoverished students who look to him for education, guidance and succour.
The 48-year-old, who won a
Kerala
government award for the "best teacher" in 2012, spends most of his time beyond the classroom pursuing a mission that aims to put a roof over the heads of poor students who don't have one.
In the past five years, Musthafa has spent his own income and organised funds to build homes for six needy students of Government Vocational Higher Secondary School in Kozhikode's Meenchanda. Construction of a seventh house is underway to shelter two girl siblings hurled into penury by the death of their father some years ago.
"I believe a good teacher is one who can feel what his or her students are going through. I may not have the gift of eyesight, but am determined not to fail my students in terms of understanding their difficulties," said Musthafa, a native of Nallalam, Kerala.
His project, Anugraha Bhavan, has so far been largely funded by philanthropists and former students of Musthafa.
The initiative to build the first house was born out of Musthafa's conversation with a Class 9 girl who didn't complete an assignment he had given in 2017. "It was monsoon. When I asked her why she hadn't done her homework, the student said water seeped through the roof of her house and damaged her notebooks. I felt sorry for her, more so after visiting her house and seeing the pitiable condition in which the family lived," he said.
A request for help sent to some ex-students and others yielded Rs 10 lakh in donations within six months. "We used that money to build a house for my student," Musthafa further said.
He would soon learn that there were many others like the Class 9 girl living in abject conditions and struggling to continue their education. The two sisters for whom he is now building a house are in classes 2 and 4. The family will receive Rs 4 lakh from the state government's Life Mission, and Musthafa hopes to raise Rs 8 lakh to complete the house.
"One donor has already contributed 10 truckloads of granite for the foundation and another Samaritan has promised to donate 100 sacks of cement," Musthafa said.
So, apart from his innate desire to help others, what drives him? "I wanted to dispel the notion that blind or visually impaired people cannot become agents of change," he further said.