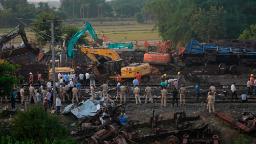 New Delhi/London/Hong Kong
CNN
 — 

The cause of a train crash that killed hundreds of people in India – and the people responsible for it – have been identified, India's railways minister said on Sunday.
Ashwini Vaishnaw said the three-way crash involving two passenger trains and a freight train in eastern Odisha state on Friday had happened "due to a change in electronic interlocking" – a reference to the signaling system used by railways – and that an investigation would show "who was responsible for that mistake."
"Let the enquiry report come out. But the cause has been identified and the people responsible for it have been identified," he told Indian news agency ANI.
However, he declined to give further details, saying it was "not appropriate to say anything at this time."
"Let the entire thing be investigated by the proper investigating authorities," he added.
The news came as hopes began to fade that any more survivors of one of India's worst ever rail disaster will be found, with authorities on Sunday switching their focus from searching for people to clearing the wreckage.
"All 21 coaches which capsized due to derailment of the trains at Bahanaga Bazar Station have been grounded. Now the site is being cleared," the state's Railway Department said in a statement issued Sunday by the Press Information Bureau.
Vaishnaw said the aim was to have a "complete, normal-like situation by Wednesday morning," adding, "we have mobilized lots of resources."
More than 1,000 workers, seven excavating machines, two accident relief trains and four railway and road cranes have been deployed in the recovery efforts at the crash site in the city of Balasore.
On Sunday, the death toll from the disaster was revised down slightly to 275 – down from 288 – due to what Odisha state's Chief Secretary Pradeep Jena said was a mistake in counting some bodies twice.
The number of injured remains at over a thousand people, and over 100 patients need critical care, according to India's Health Minister Mansukh Mandaviya, who arrived in the state on Sunday morning.
Expert doctors, specialized equipment, and medication have been flown in from the Indian capital, Mandaviya added.
However, hopes of finding any further survivors are receding. "We will pull the coaches up one by one but we don't have much hope of finding survivors," Sudhanshu Sarangi, Director General of Fire Services for Odisha, told Indian news agency ANI on Saturday.
Odisha's Chief Minister Naveen Patnaik on Sunday announced 500,000 rupees ($6,067) in compensation for the next of kin of those who died and 100,000 rupees ($1,213) for people who sustained serious injuries.
Patnaik said "all possible steps have been taken to save the lives of injured passengers in different hospitals," according to a statement issued by Odisha's Information and Public Relations Department.
The state authorities said a special train service will run on Sunday to transport survivors and dead bodies out of Odisha.
The train will run to Chennai in southern Tamil Nadu state and stop at all major stations, with a parcel carriage attached to carry bodies of the deceased.
Indian Prime Minister Narenda Modi, who visited the site, hailed local authorities and rescuers for their work in a Saturday tweet.
"I commend each and every person belonging to the teams of railways, NDRF (National Disaster Response Force), ODRAF (Odisha Disaster Rapid Action Force), local authorities, police, fire service, volunteers and others who are working tirelessly on the ground and strengthening the rescue ops. Proud of their dedication," he said.
Condolences have poured in over the past two days from world leaders around the globe, including Ukrainian President Volodymyr Zelensky, Russian President Vladimir Putin, US President Joe Biden, British Prime Minister Rishi Sunak and Japanese Prime Minister Fumio Kishida.
French President Emmanuel Macron, Pakistani Prime Minister Shehbaz Sharif and Australian Foreign Minister Penny Wong also sent their condolences.
United Nations Secretary General, Antonio Guterres, said he was "deeply saddened by the loss of life and injury," according to his spokesman.
A message released by the Vatican said Pope Francis was "deeply saddened to learn of the immense loss of life."
Modi has thanked world leaders for their messages, saying he was "deeply moved".
"Their kind words will give strength to the bereaved families. Gratitude for their support," Modi tweeted on Saturday.
India's Foreign Minister S. Jaishankar shared a similar message soon after, tweeting, "Deeply grateful to global partners for their messages of sympathy on the railway accident in Odisha. Their solidarity at this time of grief is a source of strength."
The train crash, one of the worst in India's history, has raised questions over the safety of the country's massive and outdated rail network, as the government invests in its modernization.
India's extensive rail network, one of the largest in the world, was built more than 160 years ago under British colonial rule. Today, it runs about 11,000 trains every day over 67,000 miles of tracks in the world's most populous nation.
A senior state railway official previously told CNN they suspected the crash was due to a traffic signaling failure.
The official said the Coromandel Express, which was traveling from Shalimar to Chennai, hit a freight train, derailing several coaches into the opposite track. The Howrah Express, which was traveling in the opposite direction from Yesvantpur, slammed into the overturned carriages at high speed.
A signaling failure can occur either due to a technical malfunction or human error, as traffic signals are often handled by personnel in every station, a station superintendent in Odisha told CNN.
Decaying infrastructure is often cited as a cause for traffic delays and numerous train accidents in India. Though government statistics show that accidents and derailments have been on the decline in recent years, they are still tragically common.
More than 16,000 people were killed in nearly 18,000 railway accidents across the country in 2021. According to the National Crime Records, most railway accidents – 67.7% – were due to falls from trains and collisions between trains and people on the track. Train-on-train collisions are less common.
Upgrading India's transportation infrastructure is a key priority for Prime Minister Narendra Modi in his push to create a $5 trillion economy by 2025. For the fiscal year that started in April, Modi's government raised capital spending on airports, road and highway construction and other infrastructure projects to $122 billion, or 1.7% of its GDP.
A significant portion of that spending is targeted at introducing more high-speed trains to its notoriously slow railways. India's new budget includes a $29 billion allocation for railway development, according to Albright Stonebridge Group, a business-strategy firm.