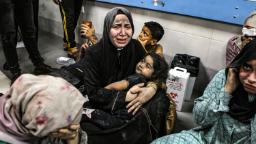 An American nurse who left Gaza last week has described the horrors she witnessed in the besieged enclave under Israeli bombardment after returning to safety in the United States.
Speaking to CNN's Anderson Cooper, Emily Callahan, a manager with aid group Doctors Without Borders (MSF), said her team saw "children with just massive burns down their faces, down their necks, all over their limbs."
"Because the hospitals are so overwhelmed, they are being discharged immediately after," she said, adding that children were then sent to refugee camps with no access to running water.
"They are given two hours of water every 12 hours," she said, adding "there were only four toilets" at the UNRWA-run Khan Younis Training Centre in southern Gaza.
The facility is hosting more than 22,000 internally displaced people and the space per person is less than 2 square meters (about 21 square feet), according to the UN relief agency.
Callahan said there were children with "fresh open burns and wounds and partial amputations that are just walking around [in] these conditions."
"Parents are bringing their children to us going, 'please can you help? please can you help?' and we have no supplies," she said. 
At least 70% of Gaza's more than 2 million people are now displaced, with most living in appalling conditions at UN shelters, according to UNRWA.
In a statement Monday, the agency described the conditions in the overcrowded UNRWA installations, which are sheltering 717,000 internally displaced Gazans. It said the situation at the shelters is "inhumane" and deteriorating and warned of a risk of a public health crisis due to the damage to the water and sanitation infrastructure. 
Callahan said she and her team had to "call in favors and call their friends" for food and water and believed they were also at risk of starvation.
"When I say we would have starved to death without them, I am not exaggerating," she said.
"And in the moments of absolute desperation of civilians, they were steadfast and calm and just talked to them and said these people are also in the same boat that you are, they have no supplies, they also have no food and water, they are also sleeping outside on the concrete."