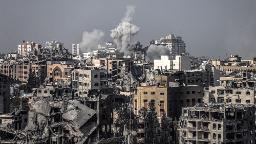 Israel's war on Hamas could set the Palestinian economy in Gaza and the West Bank back decades, according to a new analysis by the United Nations Development Programme (UNDP).
A report released Thursday by the organization paints a dire picture of the economic conditions in the Palestinian enclave, where more than 10,700 people have been killed in the response to the October 7 terror attack in Israel, according to the Palestinian Ministry of Health in Ramallah, which draws from sources in the Hamas-controlled enclave.
Since the start of the latest conflict, the number of Palestinians living in poverty has risen by 300,000, according to Abdallah Al Dardari, director of the UNDP Regional Bureau for Arab States.
Almost 1.5 million people in Gaza have been displaced since the fighting began last month, according to the UN Relief and Works Agency, while Israel's blockade on fuel combined with severe restrictions on food, water and medical deliveries has sparked a humanitarian crisis.
Key economic measurements, including employment rates and GDP, have all plunged across Gaza and the West Bank, according to the UNDP analysis.
The past month of conflict has erased 61% of employment in Gaza and 24% of employment in the West Bank, the report warns. Palestinian GDP is expected to have fallen 4.2% after one month of war compared with pre-war estimates, a loss of about $857 million. If the war lasts through a second month, that figure would rise to $1.7 billion, about an 8.4% loss of GDP, it adds.
"That is massive," Al Dardari said in an interview. "I've been following conflicts for 30 years and writing on them, I have never seen such a dramatic shock in such a short time," he told CNN.
Read more about the dire situation in the Palestinian territories.