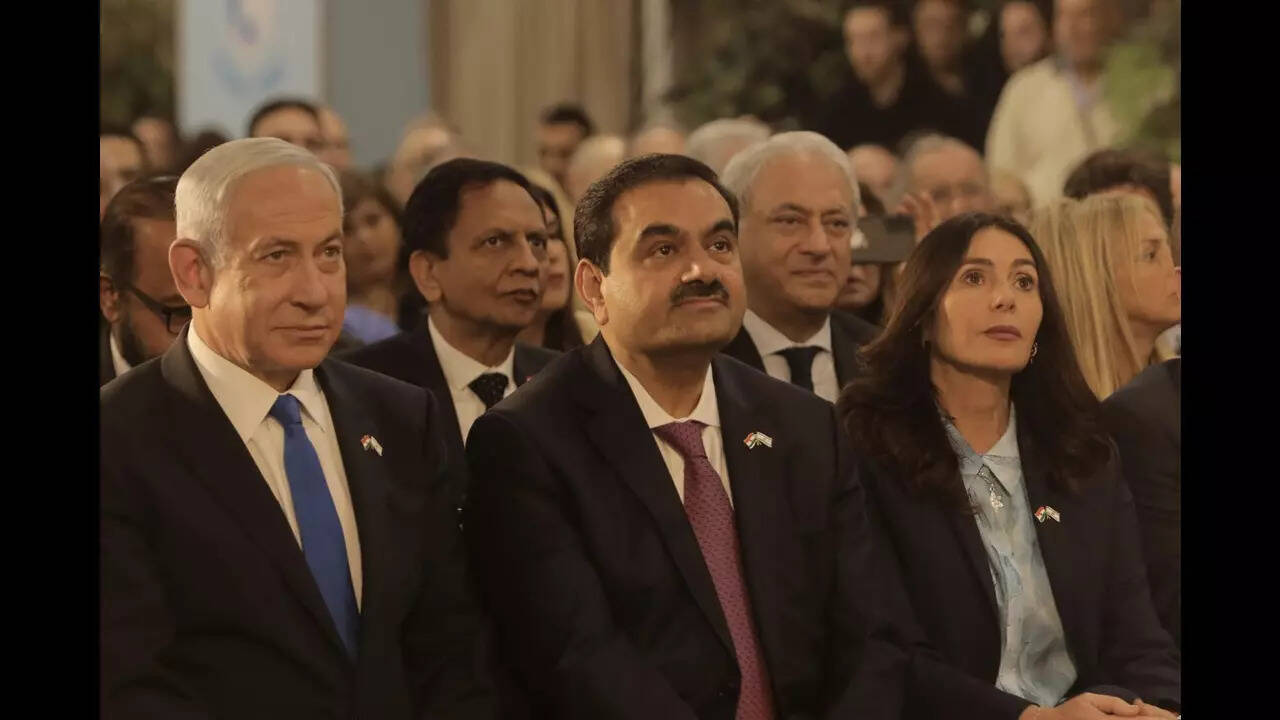 NEW DELHI: An Adani Group-led joint venture (JV) on Tuesday took over
Israel
's
Haifa
Port. Last July Adani, in partnership with Israel's Gadot Group, had secured rights to buy 100% shares of Haifa Port Company Ltd for a concession period up to 2054 with its winning $1.8 billion bid.
Located in northern Israel, Haifa is one of the country's two biggest commercial ports that handles nearly half of Israel's container cargo and is also a principal port for passenger traffic and cruise ships.
Tweeting a picture of a meeting with Israel Prime Minister Benjamin Netanyahu on Tuesday, Adani Group chairman
Gautam Adani
said: "Privileged to meet with the Israeli PM on this momentous day as the Port of Haifa is handed over to the Adani Group. The Abraham Accord will be a game changer for the Mediterranean sea logistics. Adani Gadot set to transform Haifa Port into a landmark for all to admire."
Adani Ports and Special Economic Zone Ltd (APSEZ) and Gadot Group hold 70% and 30% shares, respectively, in the consortium that bagged the Port of Haifa. With the acquisition of the Port of Haifa, APSEZ will expand its footprint into the European port sector, which includes the lucrative Mediterranean region.
Speaking at the handing over ceremony, Gautam Adani said: "…In terms of history, (
India
-Israel) friendship extends well before we became independent in 1947 and 1948. The most memorable day that binds our friendship together was September 23, 1918. It was on this day that our soldiers from the Indian cities of Mysore, Hyderabad and Jodhpur battled here, at this very city for the freedom of Haifa … Israel has always motivated me."
"Let me now talk about our presence in Israel. Today's occasion is the outcome of a lot of hard work that has been put in over the past six years. Over these years we have struck many critical partnerships that include Elbit Systems, Israel Weapon Systems, and Israel Innovation Authority. We have initiated several dozen technology relationships wherein we have offered the entire Adani Portfolio of companies to be a giant sandbox for us to learn together. We are also in the process of setting up an Artificial Intelligence (AI) lab in Tel Aviv, which will work in close collaboration with our new AI labs in
India
and the United States. We also anticipate establishing collaborative relationships with local colleges like the University of Haifa to be able to capitalise on the deep technology expertise available in this city," Adani said.
"And now we have the most momentous partnership of all – the Haifa Port along with our valued partner Gadot … this privatisation initiative was actioned at a time when you were the prime minister, and it is only fitting that today it is you who is handing the port over to us at this memorable ceremony. Talking about Haifa port, I am very confident that with the support from the Government of Israel, the local authorities and our partner Gadot, we will transform the entire port landscape. We realise that there will be competition from others, but our confidence comes from our belief in the people of Israel and therefore our belief in the country's growth story. Our intention is to make the right set of investments that will not just make the Adani-Gadot partnership proud but will make the whole of Israel proud."
"The acquisition of the Haifa port also comes with a significant amount of real estate. And I promise you that in the years to come, we will transform the skyline we see around us. The Haifa of tomorrow – will look very different from the Haifa that you see today. With your support – we will deliver on this commitment and do our part to transform this city," Gautam Adani said.
The Adani Group anticipates Israel becoming a connection both for Europe and the Middle East, and therefore it stands to be benefit from the new possible trade lanes that will get created. The Port of Haifa is located towards the north of Israel, about 90 km from Tel Aviv. It is close to the city of Haifa, the third largest city in Israel. It is also one of the major industrial areas of Israel. Haifa Port is operated by the Haifa Port Company Ltd, which also has real estate available for the development of office spaces, hotels and spaces for tourism and other recreational activities. The existing infrastructure at Haifa Port includes two container terminals and two multi-cargo terminals. The total developed quay length measures more than 2,900 metres. The maximum draft available ranges from 11 metres to 16.5 metres. Haifa Port has a Roll-on Roll-off (RORO), a cruise terminal with various passenger facilities and a waterfront length of 2 km for development. During 2021, HPC handled 1.46 million TEUs of containers, 2.56 million tonnes of general and bulk cargo.