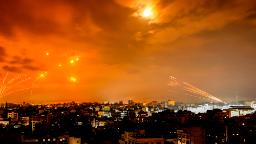 Editor's Note: A version of this story appears in CNN's Meanwhile in the Middle East newsletter, a three-times-a-week look inside the region's biggest stories. Sign up here.


CNN
 — 

Israeli Prime Minister Benjamin Netanyahu boasted in August that the Palestinian issue had become a mere "check box" for Arab states that were looking to establish ties with the Jewish state, suggesting that it was a matter of lip service to an outdated cause.
"You have to check it to say that you're doing it," he said. The Palestinian issue, he said, is brought up "a lot less than you think" in negotiations with Arab states.
A month later, Saudi Crown Prince Mohammed bin Salman (MBS) acknowledged the existence of talks to normalize relations with Israel. In return for recognition, he said, Israel would have to "ease the life of the Palestinians," stopping short of calling for a Palestinian state and effectively abandoning a two-decade-old Saudi pledge to only make peace with Israel after it fully withdraws from land it occupies.
But Hamas' brutal weekend attack on Israel has thrust the Palestinian issue back into the international spotlight and may have thrown a wrench in Israel's efforts to expand what Netanyahu calls the "circle of peace," referring to Arab nations that have sidestepped the Palestinian issue to establish ties with Israel.
The assault, which killed 1,200 people in Israel and prompted Israeli airstrikes that killed 1,055 in Gaza, was a "game-changing event" for the Israeli-Palestinian conflict, according to Omar Rahman, a fellow at the Middle East Council on Global Affairs who focuses on Palestinian issues.
"For years, (Israeli) leaders have believed they can isolate Palestinians in ghettoized enclaves indefinitely," he told CNN. "The international community no longer seems to care, and the Palestinians' Arab allies are embracing the most right-wing government in Israeli history. This has left Palestinians with no hope or political horizon, facing a future of permanent subjugation."
A Saudi-Israeli deal would have been a major diplomatic victory for Netanyahu in his efforts to end Israel's regional isolation without making notable compromises to the Palestinians, and a significant foreign policy achievement for the Biden administration ahead of next year's presidential elections.
The Arab trend to normalize relations with Israel started in 2020, when the United Arab Emirates, Bahrain, Morocco and Sudan recognized the Jewish state while lending rhetorical support to the Palestinian cause. The deal, dubbed the Abraham Accords, was facilitated by the Trump administration and touted as a historic turning point in the region.
The United States has made Arab-Israeli normalization a cornerstone of its Middle East policy, which critics say has come at the expense of more pressing matters. The sidelining of the Palestinians from such deals has been criticized in many quarters.
When the UAE recognized Israel in 2020, it said that doing so was conditional on Israel giving up plans to annex parts of the West Bank, but critics have said that the text of the agreement made no mention of the condition and only references the Palestinian issue twice.
"The Biden administration is chasing this shiny new toy called normalization," said Khaled Elgindy, a senior fellow at the Middle East Institute and director of its Program on Palestine and Israeli-Palestinian Affairs.
The international community had become complacent to the plight of the Palestinians and moved on, he said, adding that last weekend's events could put the issue "back on the regional, international and great power agenda."
Jordan's King Abdullah lambasted the Saudi-Israeli normalization process last month, saying that even those Arab states that have already recognized Israel find themselves in a tough position "when Israelis and Palestinians are dying."
"This belief, by some in the region, that you can parachute over Palestine, deal with the Arabs and work your way back — that does not work," he said at a conference in New York. (Netanyahu told CNN last month he believes that making peace with Saudi Arabia could eventually lead to peace with the Palestinians.)
In a scathing editorial on the day of the Hamas attack, Israel's most prominent left-wing newspaper Haaretz put the blame squarely on Netanyahu for, among other reasons, "embracing a foreign policy that openly ignored the existence and rights of Palestinians" while trying to reach an agreement with Saudi Arabia.
Elham Fakhro, a research associate at London's Chatham House and author of a forthcoming book on Arab-Israeli normalization, said Saudi normalization talks cannot proceed while Israel is at war with Gaza.
"Both (Presidents Donald) Trump and (Joe) Biden made Arab normalization with Israel their main diplomatic focus in the region while neglecting to advance any kind of meaningful peace talks between Israel and the Palestinians," she told CNN. "The dramatic escalation in the conflict we are witnessing today is a direct result of this neglect."
But the US is keen not to let last weekend's attacks get in the way of normalization.
"We still believe that normalization between Israel and Saudi Arabia is not only good for the people of those two nations, but for the American people and for everybody else in the region," US National Security Council Spokesperson John Kirby said on Tuesday. "And we have every intention to continue to encourage a process where normalization can occur."
Prospects of Saudi-Israel normalization appeared to have reached such an advanced level that just last month, the Biden administration presented to the world a landmark plan to connect India to Europe through a maritime and rail trade network that would also link Saudi Arabia to Israel. The plan was widely perceived as challenging China's trade ambitions and would presumably have been activated after Saudi Arabia and Israel normalized ties.
But the Hamas attacks on Israel, and Israel's deadly response to them, have prompted Riyadh to take a more traditional approach to the conflict.
Responding to the attack on Saturday, Saudi Arabia blamed Israel for its "continuing occupation and depriving the Palestinian people of their legitimate rights," stopping short of condemning Hamas, which is an offshoot of the Muslim Brotherhood group that Riyadh considers a terror organization. MBS spoke to Palestinian Authority President Mahmoud Abbas on the phone on Tuesday and expressed solidarity.
On Monday, prominent Saudi commentator Mohammed Al Yahya wrote in a Washington Post article that Saudi officials were frustrated at the notion that they had become indifferent to the Palestinian cause. But he said that the idea of a total Israeli withdrawal from the territory it captured in the 1967 war, as previously demanded by Saudi Arabia, was "dated."
Arab nations that normalized relations with Israel in 2020 appear to have done so despite strong public opposition to the move, according to a poll last year by the Washington Institute. Public sentiment against normalization may harden further if Israel conducts a potentially devastating ground invasion into Gaza, adding more pressure from the Arab street. In the UAE, Bahrain and Saudi Arabia, around three-quarters of their populations were opposed to normalizing with Israel, the poll found.
"I think the ultimate objective (from the Hamas operation) is to ensure that there's no going back to the status quo ante," said Elgindy. "The goal was to shatter this sense of Israeli complacency."