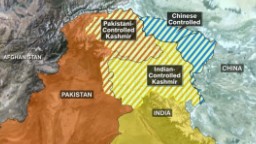 Kashmir is an 86,000-square mile region in the northern part of the Indian subcontinent.
India and Pakistan have been fighting over Kashmir since both countries gained their independence in 1947.
Between 2008 and June 2020,
4,656 people
were killed in separatist violence, according to the Jammu and Kashmir Coalition of Civil Society, a human rights group.
Between 1989 and 2008, more than 47,000 people were killed in separatist violence, according to the Indian government. Some human rights groups and nongovernmental organizations say the death toll is higher.
The Line of Control separates Indian and Pakistani-controlled parts of Kashmir.
India-controlled: One state, called Jammu and Kashmir, makes up the southern and eastern portions of the region. Srinagar is the summer capital city. Jammu (city) is the winter capital.
Pakistan-controlled: Three areas called Azad Kashmir and Gilgit-Baltistan make up the northern and western portions of the region. The capital of Azad Kashmir is Muzaffarabad.
China-controlled: One area called Aksai Chin in the northernmost part of the region.
Timeline
1947 – India and Pakistan gain independence from Great Britain. Kashmir initially decides to remain independent, choosing not to become a part of either Pakistan or India. After militants from Pakistan invade, the Maharaja of Kashmir signs a letter acceding to India. Pakistan does not recognize the letter as a legal document, sparking war.
January 1, 1949 – India and Pakistan agree to withdraw all troops behind a mutually agreed ceasefire line, later known as the Line of Control.
1989 – Islamic militants begin an uprising in Indian-controlled Kashmir.
1999 – India and Pakistan fight a limited border conflict in Kashmir, after armed invaders cross the Line of Control in the town of Kargil.
July 25, 2000 – Hizbul Mujahedeen, a pro-Pakistan Kashmiri militant group, declares a unilateral cease fire for three months in Jammu and Kashmir.
August 8, 2000 – Hizbul Mujahedeen calls off its ceasefire.
December 20, 2001 – The Indian army deploys troops on its border with Pakistan in the northern states of Kashmir and Punjab after an attack by militants on the Indian Parliament building. Pakistani troops also buildup across the frontier.
January 12, 2002 – Musharraf announces a ban on two Kashmiri militant groups.
October 2002 – Four rounds of polls to choose a new state administration conclude in Indian-controlled Kashmir. About 300-500 people are killed during the election campaign.
November 2003 – India agrees to a Pakistani offer of a ceasefire along their borders in the disputed region of Kashmir. The ceasefire goes into effect November 26 and is the first ceasefire in 14 years.
January 4, 2004 – Vajpayee meets with Musharraf in Islamabad. It is their first direct contact in two years.
March 28, 2008 – Human rights workers find nearly 1,000 unmarked graves near the Line of Control. Hundreds of protestors in Indian Kashmir later clash with police, demanding an investigation into the graves.
October 21, 2008 – India and Pakistan open a trade route for the first time in six decades on the Line of Control. Fruit, clothing and spices are among the items being transported.
January 14, 2011 – India's home secretary announces that India will cut its security forces in Kashmir over the next 12 months.
July 27, 2011 – Pakistani Foreign Minister Hina Rabbani Khar meets with Indian Foreign Minister S.M. Krishna in New Delhi to discuss ways to improve travel and trade across Kashmir.
January 2016 – The death of the chief minister of the Indian state of Jammu and Kashmir, Mufti Mohammad Sayeed, creates tumult within the coalition government. The presumptive successor is Mehbooba Mufti, Sayeed's daughter. She declines to take the oath of office, however, as relations fray between the PDP and the BJP. With the power-sharing alliance in crisis, Governor's rule is imposed in accordance with the Constitution of Jammu and Kashmir.
April 4, 2016 – Mehbooba Mufti is sworn in as the first female chief minister of Jammu and Kashmir.