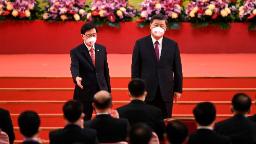 Hong Kong's new Chief Executive John Lee on Friday vowed to strengthen the city's advantage as a financial hub and build new industries.
The former British colony's reputation as an international financial center has been battered during the past two years due to its continued adherence to Beijing's unbending zero-Covid policies.
At his inauguration speech, delivered in Mandarin, Lee said he would "consolidate" the city's "inherent advantageous industries."
Apart from enhancing Hong Kong's current position in finance and shipping, Lee said his government will also build up the city's technology and innovation industries.
"We will develop emerging industries, and build Hong Kong into an international innovation center," Lee said, while addressing a gathering of top officials, including Chinese leader Xi Jinping.
During his speech, Lee extolled China's Belt and Road and Greater Bay Area initiatives, which he said have given Hong Kong "unlimited opportunities and unlimited development space."
Notably, Lee failed to address growing pushback against the city's controversial Covid policies, or whether his government would look to break from Beijing and loosen restrictions and border controls.
"We will scientifically and precisely control the coronavirus epidemic, strengthen the medical system's adaptability, and strengthen the care of the elderly and young," said Lee, who did not provide a timetable for these measures.
Some context: For years, Hong Kong has been seen an important gateway to mainland China and an East-West conduit for global business.
But its future has been called into question by China's moves to further erode the city's autonomy — including the introduction of a national security law— and a growing exodus of talent due to rigid Covid rules.