Seoul, South Korea
CNN
 — 

Before she left North Korea, the woman known as "C" had caught glimpses of life across the border through smuggled television shows.
People caught with foreign materials like books and movies, which are banned in the hermit nation, can face severe punishment. But C secretly watched the South Korean shows anyway, fascinated by what she called a "different reality" than the one she lived in.
"I learned that South Korea is a rich country where human rights are guaranteed," said the woman, who is in her 20s.
With North Korea's borders tightening and life getting harder, she fled in 2019, spending the next few years in neighboring China before heading to South Korea – where she is now receiving training at a government-run facility called Hanawon.
All defectors arriving into South Korea are required to spend three months at Hanawon, essentially a school that teaches them to assimilate, before they are allowed to enter society. Officials say the facility trains defectors in everything from history and culture to vocational skills and everyday tasks such as buying groceries – things that might look very different inside their highly isolated and impoverished home country.
C spoke to journalists Monday during a rare media tour of Hanawon, organized by the Unification Ministry. None of the defectors present provided their real names. And while C has some concerns about life in South Korea – it's so different from the North; what if people find her strange? – she sounded optimistic and determined.
"I've been learning hard … I try to manage my life believing that things will work out if I try hard enough," she said. "I'm getting to know how to live in South Korea at Hanawon."
But not everybody leaves the facility feeling empowered or sufficiently prepared, and some activists believe the system needs an overhaul.
Upon arrival in South Korea, defectors must spend up to three months undergoing security checks by the National Intelligence Service (NIS), a process meant to sniff out North Korean spies. After clearance, they head to Hanawon for another mandatory three months – meaning they spend roughly half a year in government facilities before being released.
This approach is "outdated," ineffective and overly restrictive, said Sokeel Park, South Korea country director for international nonprofit Liberty in North Korea (LINK), which helps North Koreans resettle in the South.
"It's ironic that North Korean refugees risk their lives to escape extreme government control but have to spend their first few months in South Korea living under overbearing government control that doesn't serve their interests or respect their agency," he told CNN.
The main Hanawon facility lies about 80 kilometers (50 miles) south of the capital Seoul.
At the facility's vocational education and training center, defectors can choose between 22 types of job training that's mostly blue-collar work.
Hanawon also attempts to familiarize defectors with parts of South Korean life. For example, they are encouraged listen to popular '90s music and current hits to better connect with peers and understand cultural references.
In another instance, an IT instructor teaches students to use the copy-paste function and practice typing the lyrics to South Korea's national anthem.
When CNN visited, most classrooms were empty, with only a few students in the computer and nail care rooms. Though defectors had once numbered nearly 3,000 a year, they fell to just a few dozen in 2021 and 2022, due to pandemic restrictions and tighter border security in North Korea and China.
The Hanawon training covers other basic life skills like how to open a bank account. After finishing the program, defectors receive government benefits, such as an initial subsidy and housing support, as they begin their new lives.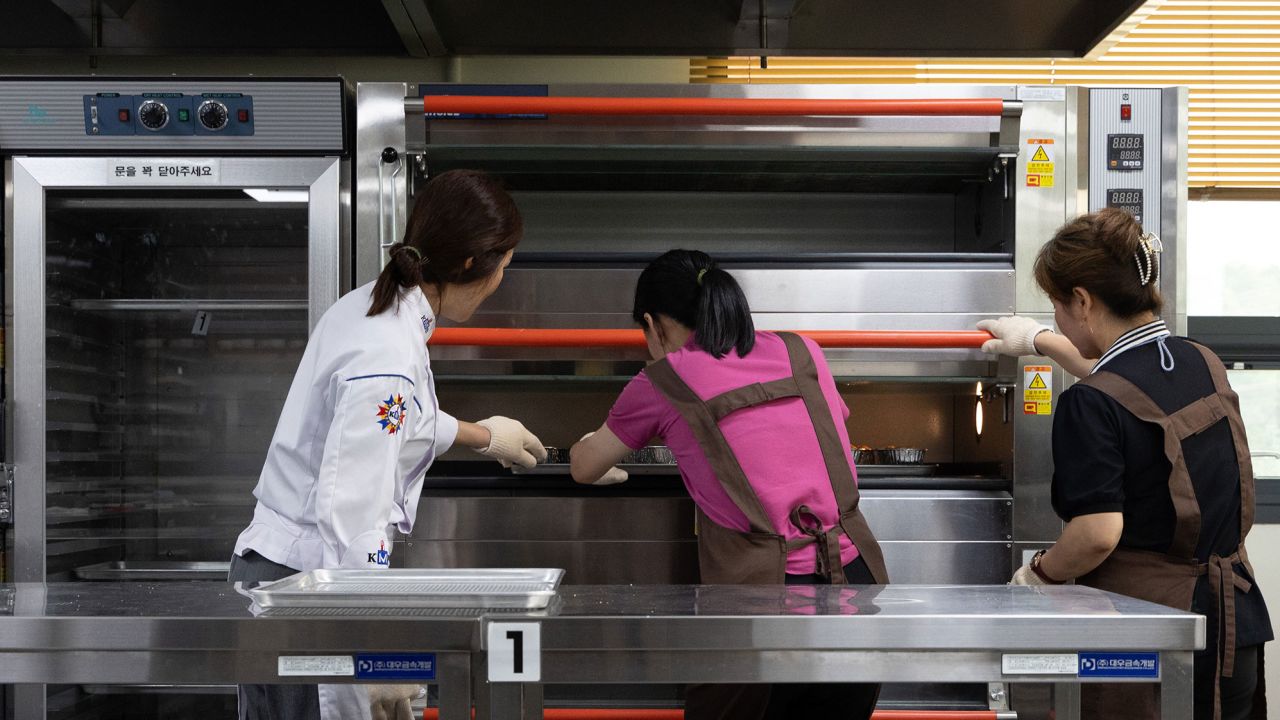 But some defectors walk away from Hanawon feeling frustrated and ill-equipped for the real world.
"Hanawon was supposed to teach me things I could actually use, but they only taught me nonsensical things," said Kim, a defector who escaped in 2017 and finished his Hanawon training in 2018.
Some lessons, like how to use modern technology, were helpful. But other theoretical classes were baffling – like when they read a book explaining how to plate a ring with gold, he said. CNN is only identifying Kim by his surname to protect his privacy.
During the Monday visit, Hanawon officials said they now teach mainly vocational lessons.
"There's a saying, 'Teach someone how to fish rather than give them fish.' Rather than giving financial aid, it is necessary to provide job training which is actually needed to survive in South Korea, and the training that helps them adjust to the South Korean system," said Unification Minister Kwon Young-se during the tour.
Two other women defectors currently at Hanawon, identified only as "A" and "B," also shared their experiences, saying the training was beneficial. "Hanawon has been a great help … The resettlement funds are enough, too," B said Monday, adding she had spent a lot of time on the computer.
But other defectors share Kim's skepticism, according to Park, the LINK country director. Various experts and advocates have made similar criticisms in past years, pointing out that defectors need more mental health care and long-term assistance.
One problem is that not all life in North Korea is the same. A resident in the capital Pyongyang, home to favored citizens like government officials and their families, may be more familiar with modern luxuries like a school education, coffee, even cell phones (limited to North Korea's censored intranet) than residents in poorer parts of the country.
And some defectors like C live for years in China before arriving in South Korea – giving them more time to adjust and get work experience.
The Hanawon approach needs to offer tailored assistance based on individual needs instead of imposing the same requirements and training on all defectors, Park said.
Many defectors also end up doing jobs in different fields than what they'd learned at Hanawon, rendering those classes ineffective, Park added. For example, younger North Koreans may have broader ambitions such as pursuing internships, attending college and entering white-collar careers.
Then there's the psychological toll of spending six months at the vetting facility run by NIS and Hanawon.
They arrive in South Korea with "so much hope and expectations," said Park – but this excitement is often drained by the time they finally emerge from Hanawon.
CNN has reached out to Hanawon officials for comment.
Many defectors and activists say the Hanawon process should be streamlined. "I think it's better to settle down quickly, earn money sooner, and live while adapting by making breakthroughs," said Kim, the defector who fled in 2017.
When asked about Hanawon's remote location on Monday, Kwon, the minister, said it was because "defectors can be nervous" around new people. Authorities figured it would be better to start in an isolated facility and "gradually expand" their exposure, he said.
Kim acknowledged the challenges of adjusting to South Korea. He often felt embarrassed when people asked, incredulous, how he could not know the words for common items bought in stores.
Work was tough, too, and made worse by South Korean coworkers who seemed to look down on him, he said. And there were cultural differences he found puzzling, like greeting coworkers each morning – which he'd never done in the North.
The difficulty of post-defection life is well documented, with some cases ending in tragedy. In 2019, a North Korean mother and son were found dead in their South Korean apartment from suspected starvation, prompting mass vigils and protests, and promises from the government to boost welfare measures.
In 2022, the remains of a North Korean woman wrapped in winter coats found in her Seoul home. Authorities estimated she'd been dead for a year.
Many defectors struggle financially, even years after arriving in South Korea. Some 6.1% of defectors were unemployed in 2022, more than double the national rate, according to government figures.
But many of these challenges can be better addressed through community-based support like local centers that offer continuous assistance and camaraderie, Park said.
These centers do exist to some extent, but could be further expanded, with some of the Hanawon offerings turned into optional local classes, he said. That could also alleviate another major problem for defectors: isolation after being completely cut off from loved ones back in North Korea.
After their arduous journey, he said, North Korean defectors should have the chance to begin this new chapter on their own terms – with the freedom they risked their lives to seek.