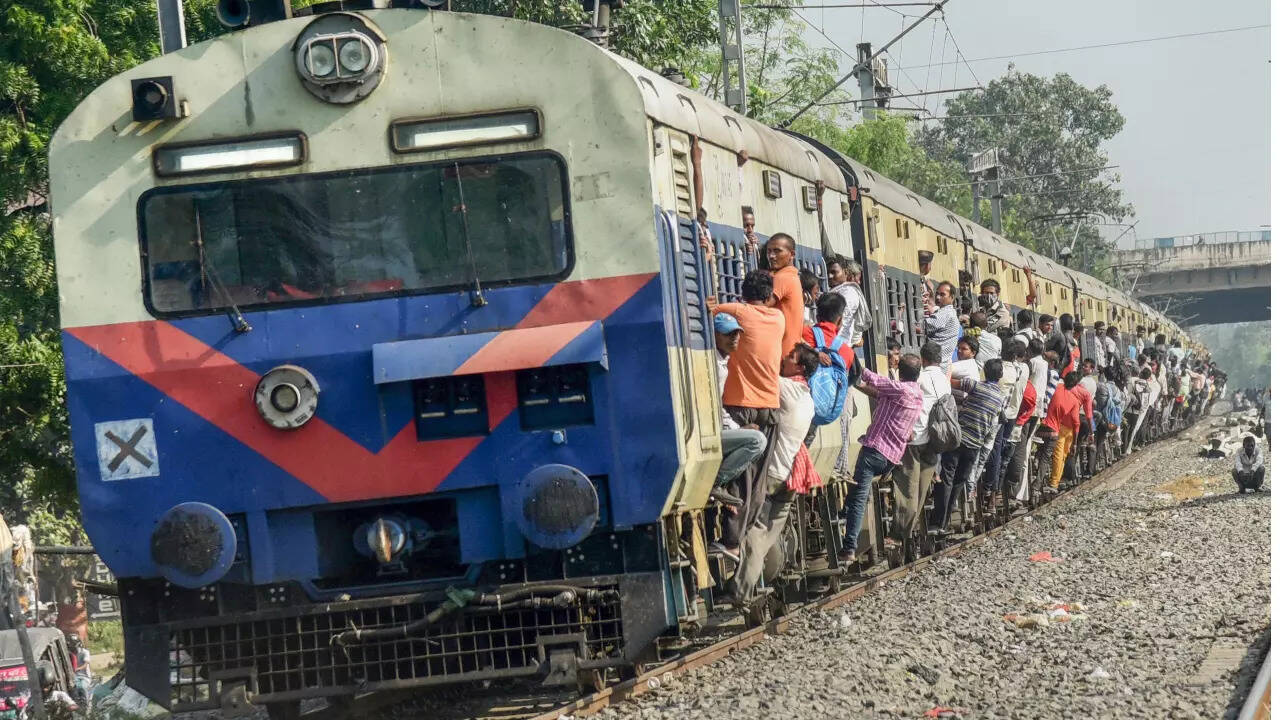 The railways has received a record budgetary push of over Rs 2. 4 lakh crore to accelerate projects like introducing hydrogen-powered wagons and trains, laying of additional tracks, electrification of network, and revamping stations with better amenities for passengers.
Railway minister Ashwini Vaishnaw said the first indigenously designed and developed hydrogen-fuelled train will be rolled out by December 2023, and such trains will be operated on heritage routes.
Announcing the highestever allocation, finance minister Nirmala Sitharaman said this was over nine times the amount earmarked in 2013-14. The
Budget
documents show that the proposed allocation for the railways for 2023-24 is 48% more than therevised estimate (RE) for the current financial year and nearly 72% higher than the budget estimate (BE).
The revised spending of railways for 2021-22 has been pegged at Rs 1. 63 lakh crore compared to the budget estimate of Rs 1. 4 lakh crore. Vaishnaw said the steep rise in budgetary support has addressed the "investment deficit" that the national transporter faced so far and "will help meet the aspirations of 800 crore passengers".
The maximum increase in allocation has been made for passenger amenities, which include redevelopment of stations. For 2023-24, Rs 13,350 crore has been earmarked for this compared to the RE of Rs 3,824 crore for the current fiscal. Vaishnaw said 1,275 stations are being revamped under the 'Amrit Bharat Station' scheme and the redevelopment of Delhi, Mumbai and Ahmedabad stations is underway.
The second highest increase in allocation has been proposed for railway's rolling stock — trains, locomotives and wagons. The government has proposed allocation at Rs 37,581 crore, more than double of the RE for rolling stock.
Introduction of Vande Bharat trains, H-fuelled trains, and modern wagons for freight movement will be the main thrust of railways.
On the plan for Vande Bharat trains, Vaishnaw said, "This year, we will expand the production to three new facilities — Sonipat (Haryana), Raebareli (Uttar Pradesh) and Latur (Maharashtra). . . With four factories (including ICF Chennai) simultaneously producing these trains, the output should be close to 2-3 new Vande Bharat trains every week. " Currently, the railways is getting around two trains every month.
He also said Vande Metro,aimed at covering shorter distances between cities, is also being developed and the production and design will be completed this year.
The FM said 100 critical transport infrastructure projects for last and first mile connectivity for ports, coal, steel, fertiliser and foodgrains sectors have been identified. These will be taken up on priority with investment of Rs 75,000 crore, including Rs 15,000 crore from private sources.
Corroborating the increased allocation for doubling of railway lines — from Rs 24,093 crore in RE to Rs 30,749 crore in 2023-24 — Vaishnaw said there is huge focus on electrification and laying of tracks. "Before 2014 only 3-4 km of track were laid every day. Now it has increased to 12 km a day and the target for next year is 16 km of track," he said.
On the operating ratio (OR), which is a key indicator of railways financial health, the minister said they have managed well. TOIhas learnt that the (OR) for 2023-24 has been pegged at 98. 45 and in the RE 2022-23, it has been estimated to be 98. 2. The term RO refers to the amount spent to earn every Rs 100.