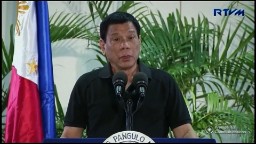 Father: Vicente Duterte, lawyer and politician
Mother: Soledad (Roa) Duterte, teacher
Children: with Elizabeth Zimmerman: Paolo, Sebastian and Sara; with Honeylet Avanceña: Veronica
Education: Lyceum of the Philippines University, B.A.,1968; San Beda College, J.D.,1972
Religion: Roman Catholic
Other Facts
Duterte was mayor of Davao City for seven terms and 22 years, although not consecutively.
His father was the governor of unified Davao and a member of President Ferdinand Marcos' cabinet.
Duterte's daughter, Sara Duterte, is the mayor of Davao City.
Timeline
1977-1986 – Special counsel, and then city prosecutor of Davao City.
1986-1988 – Vice-Mayor of Davao City.
1988-1998 – Mayor of Davao City.
1995 – After Flor Contemplacion, a Filipino domestic worker, is hanged in Singapore for murdering her co-worker in 1991, Duterte leads protestors in burning the Singapore flag.
1998-2001 – Becomes a congressman representing Davao City's 1st District.
2001-2010 – Mayor of Davao City.
June 30, 2016 – Takes office as president.
October 4, 2016 – The Philippines and the United States begin joint military exercises in Manila for what Duterte claims will be the final time under the decade-long landmark Enhanced Defense Cooperation Agreement.