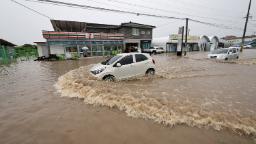 Hong Kong
CNN
 — 

Seven people have died and thousands have evacuated their homes in South Korea due to heavy rain.
Three others were missing, the country's Yonhap News Agency reported Saturday, citing the Central Disaster and Safety Countermeasure Headquarters.
In Nonsan, South Chungcheong Province, two people died Friday after their building collapsed due to a landslide, it reported, adding that one person was killed in a mudslide in the central part of the country.
Across South Korea, more than 1,000 people were forced to evacuate their homes and seek temporary shelter on Saturday, Yonhap reported. In addition, some 8,300 households in four provinces are experiencing power outages.
Prime Minister Han Duck-soo ordered authorities to evacuate those in landslide-prone regions and to carry out rescue efforts, according to the South Korean news agency.
Last year, the South Korean capital Seoul logged record downpours that inundated homes, roads and subways, killing at least nine people.
Scientists have warned the frequency and intensity of heavy rainfall is increasing across East Asia as the human-caused climate crisis accelerates the probability of extreme weather events.
The newest round of heavy rains in South Korea come just days after devastating floods wreaked havoc in neighboring Japan, killing at least six people and injuring 19.
Torrential rain in southwestern Japan prompted the country's weather agency to issue emergency warnings at the start of the week for the Fukuoka and Oita prefectures, on Kyushu, the country's third largest island.
Earlier this month, heavy downpours also caused flooding in southwest China, killing at least 15 people in the city of Chongqing.