Indian cuisine is colourful and comforting in every aspect. There are so many variations in terms of dishes and the way they are all cooked with a variety of masalas is amazing. We have grown up relishing desi Indian food and that's why, no matter what, there's nothing as drool-worthy and satisfying as Indian food. Seems like Shraddha Kapoor is also in the same boat. That's probably why she kickstarted her New Year with a sumptuous Indian meal. She shared a post on Instagram featuring various glimpses of how she spent the first day of the year 2023. One of the slides also gave us a view of her meal platter that looked utterly appetising. What do we see there? Aloo bhindi ki sabzi is the first thing that caught our attention. Then, there's a yummy green peas dry curry cooked with chunks of carrots into a bunch of masalas. We could also spot a delectable yellow rice dish garnished with a nice flavourful preparation. For salad? There are sliced carrots. Amping up her overall meal is a blob of what looked like thecha on the side. For the unversed, thecha is basically, a chutney made with spices. For the caption, Shraddha stated, "Agar 2023 ka har din aaj ki tarah start ho (What if every day of the year 2023 starts like today)," with a range of emojis.  
Also Read: Shraddha Kapoor Reveals How Turning Vegetarian Made Her Fitter And Happier
Do you also want to enjoy a comforting meal like Shraddha Kapoor? We have recreated Shraddha Kapoor's wholesome desi meal for you. We have listed down the recipes that are pretty much seen on Shraddha's plate. Check the list out.
1) Masala Bhindi
Are you a fan of bhindi? Well, we all are a fan of this humble vegetable. It tastes perfect with chapati, or rice and dal. If you are making a proper Indian meal, bhindi can always be an option to rely on. Recipe here.   
2) Gajar Matar
Isn't winter the best time to enjoy this drool-worthy dish? This is that time of the year when we get fresh carrots in the market and even green peas that are super healthy. And, this amazing combo can never go wrong. Include this in your meal and you will not regret it. Click here for the recipe.
3) Lemon Rice
A plate of mouth-watering lemon rice after a tiring day at work has the power to lift up your mood. Don't you think? It filling and absolutely tasty. Serve it with papad and everyone will love it. Find the recipe here.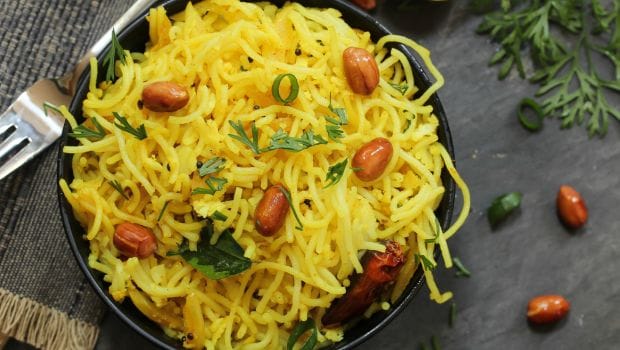 4) Mixed Vegetable Salad
It is believed that you must always accompany your meal with a nice, flavourful salad. If you want to stick to the idea, this recipe will help you set up a good meal. Take a look.
5) Tomato Garlic Chutney
Chutneys amp up your meal in no time and we all agree. And, today, we will talk about tomato garlic chutney. The fiery red chilli and mustard seeds give the much-needed flavour punch to it. How much time is required to make this? Just ten minutes. Find the recipe here.
Enjoy a typical Indian meal that is always comforting. 
Featured Video Of The Day
Hot Toddy Recipe | How To Make Hot Toddy