CNN
 — 

An Israeli woman and her daughter survived Hamas' 12-hour siege of their kibbutz by barricading themselves into a safe room using a vacuum cleaner and a rolling pin.
Theirs was just one of the remarkable stories of survival against the odds to have emerged following the Gaza-based militant group's surprise weekend attack on Israel, with others telling CNN of how they escaped by hiding in bushes and under bodies.
Irit Lahav, a resident of the Nir Oz kibbutz, told CNN's Erin Burnett Tuesday that when she heard Hamas fighters had entered her community Saturday, she and her daughter took refuge in a safe room as if it were "a regular bombing," which "we're used to for years and years now."
But she soon realized the room, used previously as a bomb shelter, was ill-equipped to keep out the advancing militants – because it didn't even have a lock.
All Israeli buildings erected after 1993 are required to have bomb shelters – reinforced rooms with concrete walls and heavy steel doors.
But these safe rooms are designed to withstand a rocket attack, not an armed incursion. The doors are heavy, but they don't have locks – they are not supposed to be lockable, for safety reasons.
As fighting erupted around her, Lahav feverishly reached out to her family and other residents of the kibbutz for advice.
"Everywhere endless, endless, endless shooting and grenades. So I'm trying to figure out what to do. Are they going to maybe break into our door? How can I make sure it's locked? And I started texting and calling people from the kibbutz how to lock the door, and nobody knew," Lahav said.
Salvation came from an unlikely place – when her brother sent her a picture of how he had locked his door "with two broomsticks."
"I thought, I don't have any brooms. How would I do that? But then I remembered I had a rolling stick and I took that and then I took my Dyson vacuum," Lahav said.
"It's hard to imagine how, you know that you're just going to die if they break in. And I was just tying these things to the door," Lahav said. "It's just fear, fear, fear."
As she was assembling the makeshift barricade, Lahav said she could hear men's voices screaming and "banging everything."
"There was nothing we could do except we were hugging, my daughter and I, under the table, hiding in the dark," Lahav said.
"We started saying to each other, 'I love you'. My daughter says 'Mom, I love you, I really appreciate everything you did for me.' And I told her how much I love her. We thought we were just going to die and they kept banging the door trying to open. And I was sure that whatever I did, the vacuum cleaner and the rolling stick wouldn't hold, but it did."
Lahav said she and her daughter felt lucky when after "eight or 10 minutes of trying and screaming and shooting everything" the attackers left their house. But the relief was short-lived, as more fighters returned approximately an hour later, "trying to break into the door" once more, she said.
"It was so scary," Lahav told CNN. "Then the third time again they came. It was like an endless nightmare."
Lahav estimates that 30% of those living in the kibbutz either died or were kidnapped during Saturday's surprise attacks.
Nir Oz kibbutz was one of several kibbutzim, or small farming enclaves, that bore the brunt of Hamas' ground assault.
Kibbutzim predate the founding of Israel, when small groups of people set up communities based on the idea of communal living. About 125,000 people live across approximately 250 kibbutzim in Israel, according to the Jewish Agency for Israel.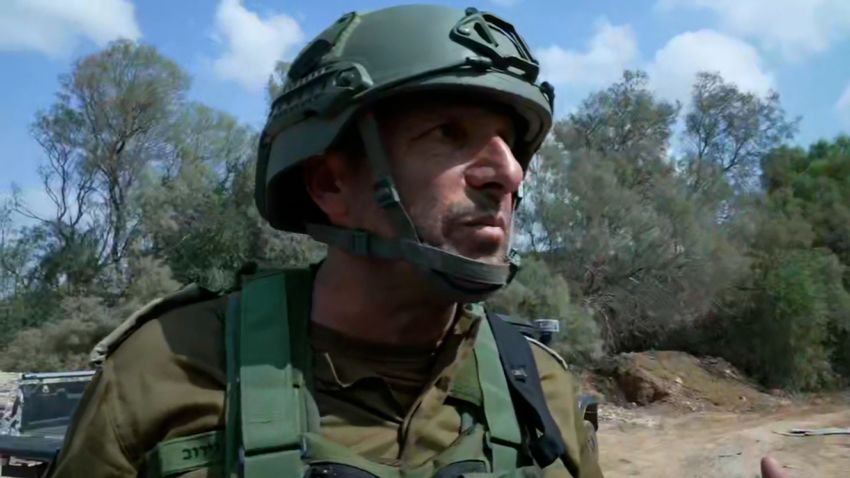 'They cut heads off people': IDF major general describes aftermath of Hamas attack
Hamas fighters also gunned down and took hostage revelers at the Nova music festival in a rural farmland area near the Gaza-Israel border.
Among the audience that day was Rafael Zimerman, who survived by hiding in a bunker and covering himself with bodies to avoid detection.
Zimerman told CNN's Anderson Cooper that he and his friends had initially run from a hail of rockets, then got in a car that took them to a nearby bunker where other people were hiding.
He was near the back of the bunker as he was one of the first of the 50 or so people to get there, but could hear police fighting the attackers at the entrance.
Zimerman said that at one point gas was thrown into the bunker.
"With the gas, you cannot breathe," he said. "It's impossible to breathe after 30 seconds."
Following the gas, the attackers entered the bunker and began shooting and throwing flash-bang grenades.
"I just covered myself with dead people, a lot of dead people," he said. "So I stayed there inside like for hours, like just waiting to die, you know? I just wanted to die in peace because I suffered so much from the gas."
Zimerman, who has shrapnel wounds from the attack, said he was one of six people to get out of the bunker alive.
"I'm a miracle. I'm a survivor and I have to be glad," Zimerman added.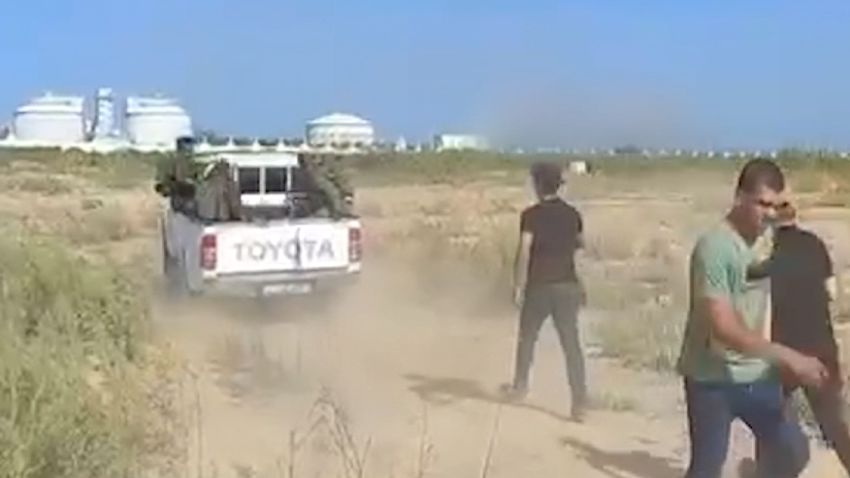 Video shows Hamas militants striking captured festivalgoer
Amir Ben Natan, another festival goer, survived by hiding in a bush.
Natan said he decided not to run to the nearby field where numerous others were fleeing. That decision may have helped save his life, as video obtained by CNN shows several of those who ran to the field were later shot.
"I saw a bush on my left side and I thought that maybe I could hide there, and I decided it is the best option, so I went inside of this bush," Natan said.
"About after one hour, two policemen arrived and I was there with a few other people and the policemen told us to move from there," Natan added.
"I did not feel safe, so shortly (after) I decided to hide again in another bush. While I was in the second bush, I heard like war outside. I knew that at any time a bullet or a grenade or something can fall on me. And then after a while, it was silence and I heard the terrorists talking right nearby and I just prayed that they would not discover us."
Israeli rescuers counted about 260 bodies near the site of the Nova festival following the slaughter.