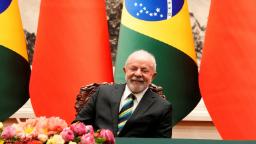 CNN
 — 

Brazilian President Luiz Inacio Lula da Silva said on Saturday that the United States should stop "encouraging" the war in Ukraine.
"The United States needs to stop encouraging war and start talking about peace; the European Union needs to start talking about peace so that we can convince Putin and Zelensky that peace is in the interest of everyone and that war is only interesting, for now, to the two of them," Lula told reporters in Beijing.
Lula also revealed that during his talks with Chinese leader Xi Jinping they discussed forming a group of like-minded leaders on Ukraine.
"I have a theory that I have already defended with Macron, with Olaf Scholz of Germany, and with Biden, and yesterday, we discussed at length with Xi Jinping. It is necessary to constitute a group of countries willing to find a way to make peace," Lula said.
The US and EU have been major suppliers of arms and aid to Ukraine following Russia's invasion.
Ukraine's President Volodymyr Zelensky has ruled out peace talks as long as Russian President Vladimir Putin remains in power.
Lula was in Beijing on Friday for talks with Xi Jinping seeking a reset in the China-Brazil relationship, which saw tense moments under former leader Jair Bolsonaro.
But it also reveals a growing distance from geopolitical questions preoccupying the West.
While Russia's invasion of Ukraine has dominated much diplomatic conversation in Europe and in Washington, Lula's trip to China is instead largely focused on trade, how Chinese investment can help Brazil's economy get back on track, and the potentially lucrative universe of carbon credits.
Like many leaders in middle income and developing countries, Lula has adopted a policy of non-intervention over the war in Ukraine, rebuffing efforts led by US President Joe Biden to unite the global community in opposition to Russia's invasion.