SHIMLA: Former Himachal Pradesh chief minister and BJP leader Jai Ram Thakur expressed deep concern over the closure of roads in the upper Shimla areas, leading to a distressing situation where people are forced to discard their apple harvest into the nullahs.
He said the apple industry served as the backbone of the state's economy, and it was disheartening to witness such wastage.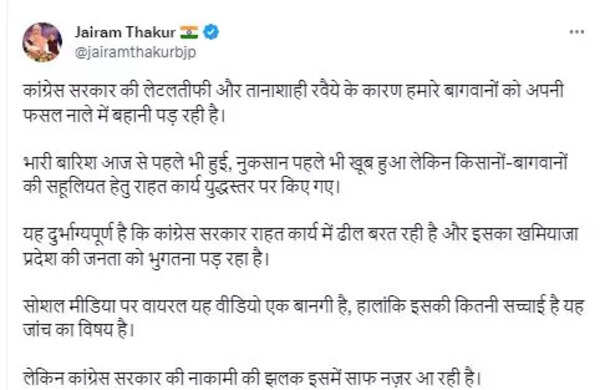 During his visit to the disaster-affected regions of Jubbal-Kotkhai and Rohru in Shimla, he interacted with the affected individuals to assess their condition. The disaster relief efforts of the government were found to be lacking, with some displaced families not even receiving basic necessities like tarpaulin.
Adding to the woes, the ongoing apple season is facing hurdles as the damaged roads have not been repaired yet, hindering the transportation of apples to the markets. The lack of coordination among the chief minister and the minister further compounds the problem, he said.
He said videos had surfaced, showing apples rotting while waiting for the roads to be fixed, prompting people to throw away their hard-earned produce.
Jai Ram Thakur criticised the authorities for not addressing the situation urgently.
He recalled that during the BJP regime, roads damaged by rain were swiftly repaired within three days to prevent inconvenience to the locals. The current government needs to take immediate action to assist the disaster-affected people and prioritise the restoration of vital infrastructure, especially during the crucial apple season.
He urged the responsible individuals in the government to step up and support those affected by the disaster, ensuring timely relief measures and effective road repair initiatives to prevent further wastage of the precious apple crop.