MUMBAI: The city-based family of a 26-year-old man who lost his life chasing after a Rs 28 change that an autorickshaw driver refused to return in 2016, has been awarded Rs 43 lakh as compensation.
The victim, Chetan Achirnekar, had handed Rs 200 for a Rs 172 fare and when he insisted on the change, the auto driver attempted to speed off without paying, causing the vehicle to topple over him. Chetan died on the spot even as his father watched in horror.
The Motor Accident Claims Tribunal refuted the defence of Future Generali
India
Insurance Co Ltd that since this was a culpable homicide case, they were not liable. The tribunal noted the death certificate and post-mortem report showed Chetan died due to injuries sustained in a motor vehicle accident.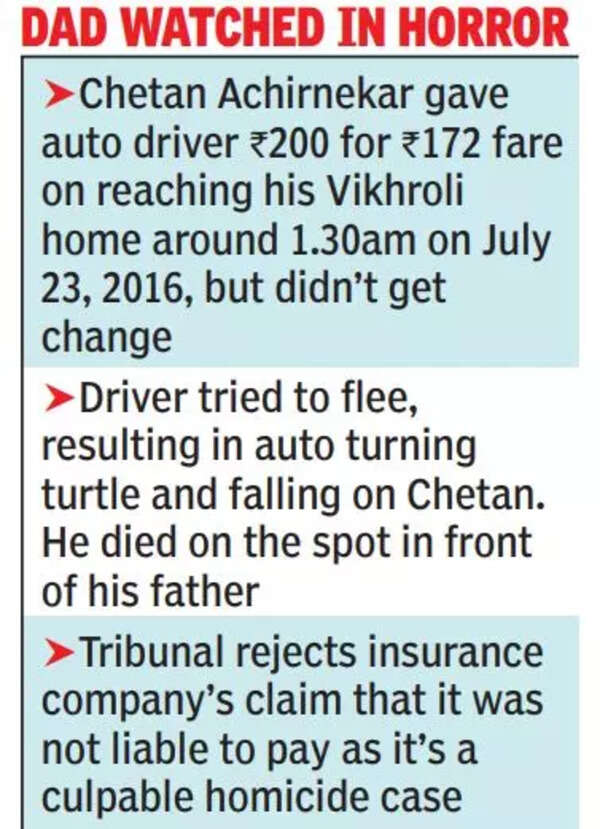 "The manner in which the accident occurred clearly shows that the autorickshaw driver was rash, negligent and responsible for the accident," said the tribunal.
Calculating the compensation to be paid to Chetan's familyparents Ganpat and Sneha Achirnekar and younger brother Omkar Achirnekar, the tribunal also considered the victim's monthly salary of Rs 15,000. At the time of his death, Chetan was working in a software firm.
The compensation will have to be paid jointly by the insurance company and the owner of the autorickshaw Kamlesh Mishra.
The family said on July 23, 2016, at about 1.30am, Chetan was returning from the airport to their residence at Vikhroli East by autorickshaw. When he came close to his home, he paid Rs 200 to the driver.
The driver refused to hand over the change claiming he did not have it and started the vehicle. Chetan asked the driver to stop. Instead, he attempted to speed. As a result, the auto turned turtle and fell on Chetan who suffered fatal injuries.
The matter was reported to police. The family said due to Chetan's death they suffered both emotionally and financially.
The vehicle owner did not appear before the tribunal and an ex parte order was passed against him. Among arguments made to deny liability in the claim, the insurance company submitted at the time of the incident, the auto driver did not hold a valid driving licence.
The tribunal said to substantiate this claim, the insurance company had not adduced any evidence.