We're living in the third decade of the twenty-first century and it is really about time we become the progressive society that we claim to be. We root for women empowerment and women's liberation (at least we claim to do so), but let's sit and think about it a bit. Are we doing enough? Are our women intrinsically feeling empowered and motivated enough to make their own independent choices without fearing the patriarchal norms and beliefs that have been so deeply ingrained in our society for ages? And while they are at it, are they safe from the stereotypical barbs of the so-called (hypocritical) progressive mindsets?
If your answer is yes, how would you then justify the various attacks faced by women making 'bold' choices in their own best interests? Why are women still subjected to vilification in the name of culture? The most recent case in point would be our B-Town actresses Alia Bhatt, Deepika Padukone and Katrina Kaif. As Alia announced pregnancy in about two months after her wedding to Ranbir Kapoor, self-proclaimed custodians of Indian culture took no time to question the time of conception of the baby. While some claimed the actress got pregnant while living in with Ranbir (and assumed it to be the reason behind the rushed wedding ceremony), others threw shade on Deepika and Katrina for not embracing motherhood after marriage yet. So much in the name of progressive thinking and under the garb of culture! Double standards at its best. Neha Dhupia, Dia Mirza, Kalki Koechlin, Amrita Arora, Sridevi, Sarika, Neena Gupta, Celina Jaitley, Natasa Stankovic, Gabriella Demetriades, Amy Jackson and many other women have faced similar hypocrisy when they chose to embrace pregnancy before taking the plunge.
In today's #BigStory, we seek perspectives from some of the changemakers of the industry, renowned sociologists, and feminists to find out how the women in the industry and the society at large are affected by this prevalent pseudo liberalism, how they are making efforts towards a positive change one step at a time and more. Read on.
Women and society
Since ages, women have been considered as the weaker sex and subjected to ideas and beliefs that reek of patriarchy. Even in the 21st century, women are expected to conform to societal norms and those making bold choices are considered to be a stigma. From their dressing sense to their career choices, from decisions pertaining to marriage to bearing children, everything comes under the scanner when it deflects from the stereotypical norms.
Sociologist Shiv Visvanathan sheds some light as he says, "There was a myth around Mother India which alluded to an immaculate conception. The women today are not immaculate, they are vulnerable. Alia for all her efficiency and competence is like a porcelain doll in terms of vulnerability. This category of professional women is a distinctive category. They are professional women, but the moment they become a mother, they breach the professional bounds. In fact, if you look at most athletes, the minute they take a break, they disappear from the list. They are only there as mothers or as older women giving advice. They are no longer professionals. It's not just a question of patriarchy, it's a kind of modern patriarchy. Both modernity and tradition are difficult. Women today confront both. Men are allowed to make mistakes, women aren't. Women have to play a certain conformity game which makes them doubly vulnerable. They have to be good looking and exotic, but they still have to conform to society. I don't think society understands, it legislates blindly. It acts as if it's acting on behalf of the greater good. It acts as if it is defending the family, the society. But I don't think so. There is a complete indifference to it. The first answer to anything that happens to a woman is, 'Take a break'."
Actress Dia Mirza, who recently gave marriage another chance with Vaibhav Rekhi, conceived her child before they exchanged wedding vows. Reflecting on the women's rights in the society today, Dia says, "We are in the dark ages when it comes to women's rights in many aspects. Look at the kind of crimes that continue to be committed against women. Look at America, it's supposed to be a great democracy, right? Look how far behind they have gone when it comes to women's rights. Women can't go through abortion if they want! At least in India, the law protects women and their rights. I think as a society we need to learn to respect that more."
Former actress Somy Ali adds, "We just went back 50 years with the overturning of Roe in my home country and this is not the end. It's a slippery slope not just in the US, but all over the world for women because other countries are quite in awe of the decisions the US makes on women's rights. The day to day impact is going to be ten-fold for women with the status quo of no consequences if they are victims of rape, trafficking or domestic violence. Even if a woman had clout and dares to report rape or abuse, she is mocked or deemed shameful and a liar. And I have experienced this personally which I have shared quite openly in my documentary series called 'Fight or Flight'."
Psychiatrist Harish Shetty opines men are still in the stone age and largely objectify women, demeaning them and trolling them at any single opportunity. "The evolution of women has been faster than men along with the transformation of their collective value systems and courage. In spite of the empowerment, most of the women still hold patriarchy close to their bosoms and unconsciously attempt to be perfect on all playgrounds. In milder forms, the 'pativrata' philosophy is very active. Hence they are very vulnerable and easily trolled irrespective of their achievements," he says.
The question is how do you break the mindset. Shiv Visvanathan adds, "If a woman tries to experiment, say for instance, try to live-in with her boyfriend before marriage, it is considered a violation, worse than being unpatriotic. We are living in a nationalistic patriarchal society that doesn't allow woman to be different, that punishes women for being women and also for not trying to be women. It is a kind of lethal double hypocrisy. And I see more and more of it these days. The amount of students I know who have been molested by their family is alarming. No one talks about rape, no one talks about incest. But if a woman has a premarital pregnancy, she's had it! Women are not allowed cameo roles in this real life."
The changemakers
Despite the oppressive ways of the society, there are several women who are bending the rules and coming out as superwomen pioneering change. Veteran actress Shabana Azmi who has been vocal about women's rights and women empowerment says it's tough every time you go against the prevailing norms of society. "Resistance is needed not only for oneself, but also to reshape the society, to overcome the long ingrained patriarchal values. Celebrities are under constant scrutiny, but my father told me a long time ago to not pay heed to the fear of 'log kya kahenge?' (what will people say?) and to lead by example. Now the veil of hypocrisy is being lifted. That said, I think this is an individual's personal choice and you can choose to keep mum about it. I met a street walker once who said, 'Nadi ke muh par dhakkan laga sakte hain, logon ke muh par nahi.' (The mouth of a river can be covered, but not the mouth of the people.) But I do think things are changing for the better. In most tribal societies this is the norm, so it's also a cultural thing. In western society, it doesn't raise eyebrows. So as long as young people practice safe sex consensually as adults, it's okay," she tells ETimes.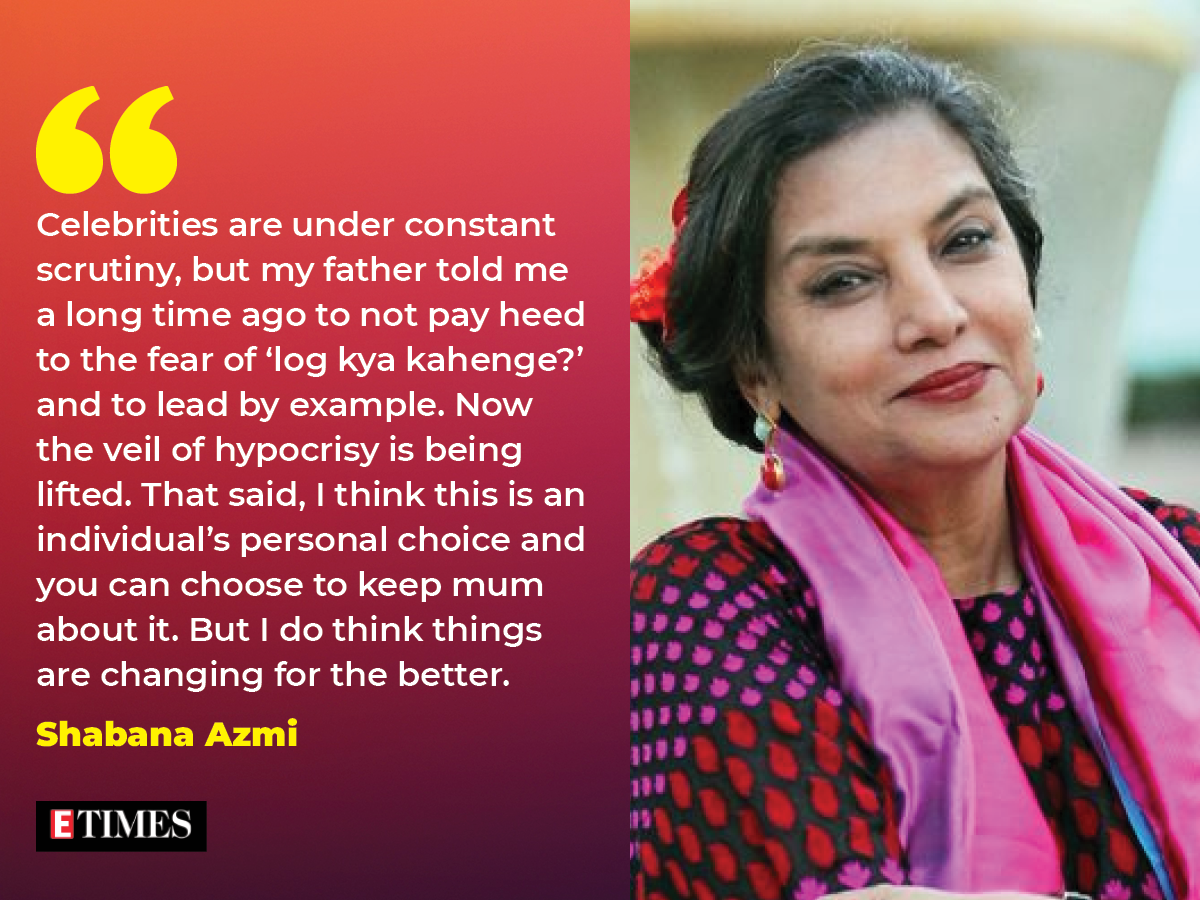 Dia Mirza did not give two hoots when people spoke about her second marriage and her premarital pregnancy. "I feel when it comes to personal choice and the power of personal choice, it can only be celebrated by those who ensure they make personal choices, not threatened, not afraid of making the choice that you need to as an individual," she says. "And while there may be many people with regressive thoughts on things like premarital sex or premarital pregnancy or any other things for that matter, there are enough people who recognise the fact that it is a personal choice, that people have the right to do if they choose to. I don't think we are as progressive as we imagine or as we consider ourselves to be."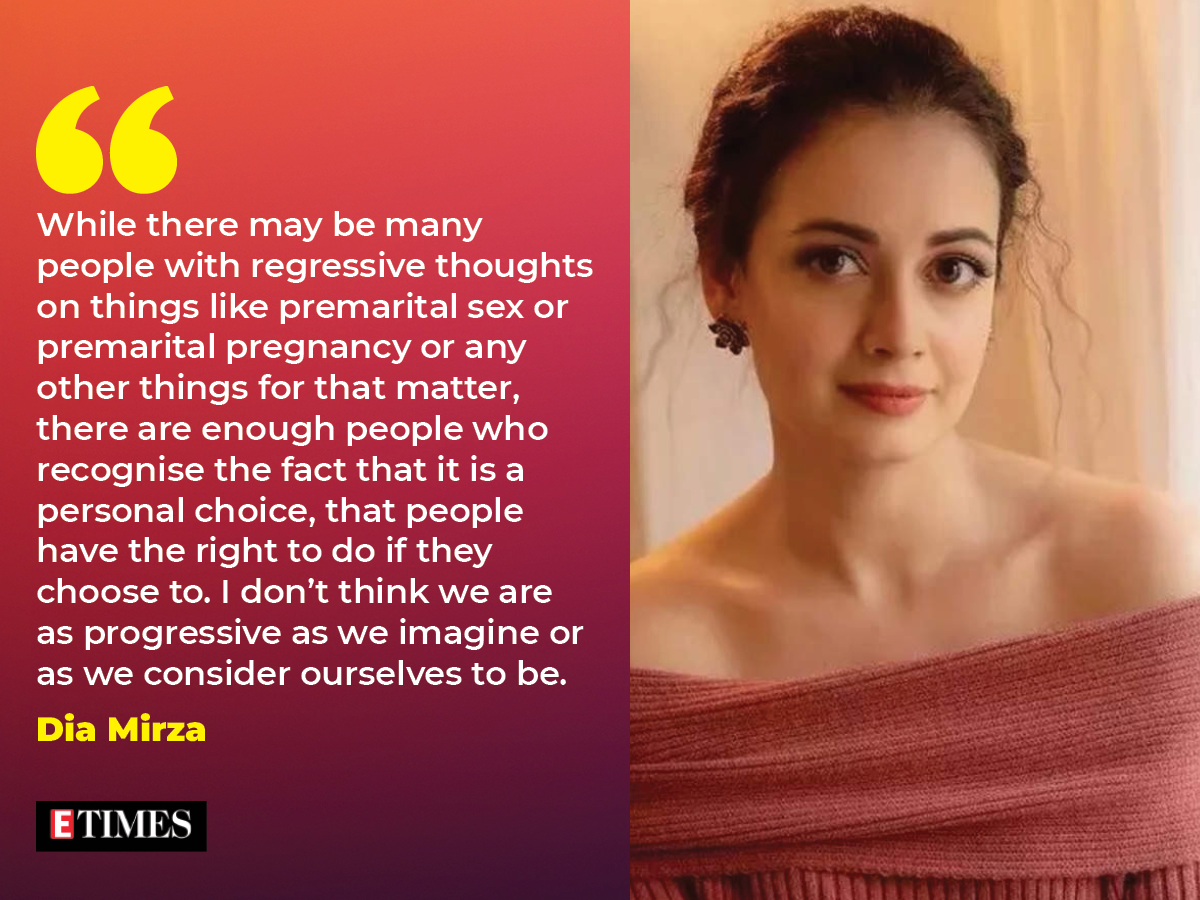 Meera Chopra, who will soon be seen in the film 'Super Woman' that explores the concept of asexuality, says, "Premarital sex is extremely common in today's times. I think couples should have the choice on how they want to deal with premarital pregnancy – if they get married, that's the best outcome in my opinion. The regressive thinking impacts women at large. Even in progressive countries such as the US, women are losing their rights over their own bodies and can no longer undergo abortions which will hinder their freedom of choice. The only solution, in my opinion, is to live and let live. Not interfering with other's lives serves two purposes – we all have more time for ourselves and we create a healthy and more accommodating society for everyone."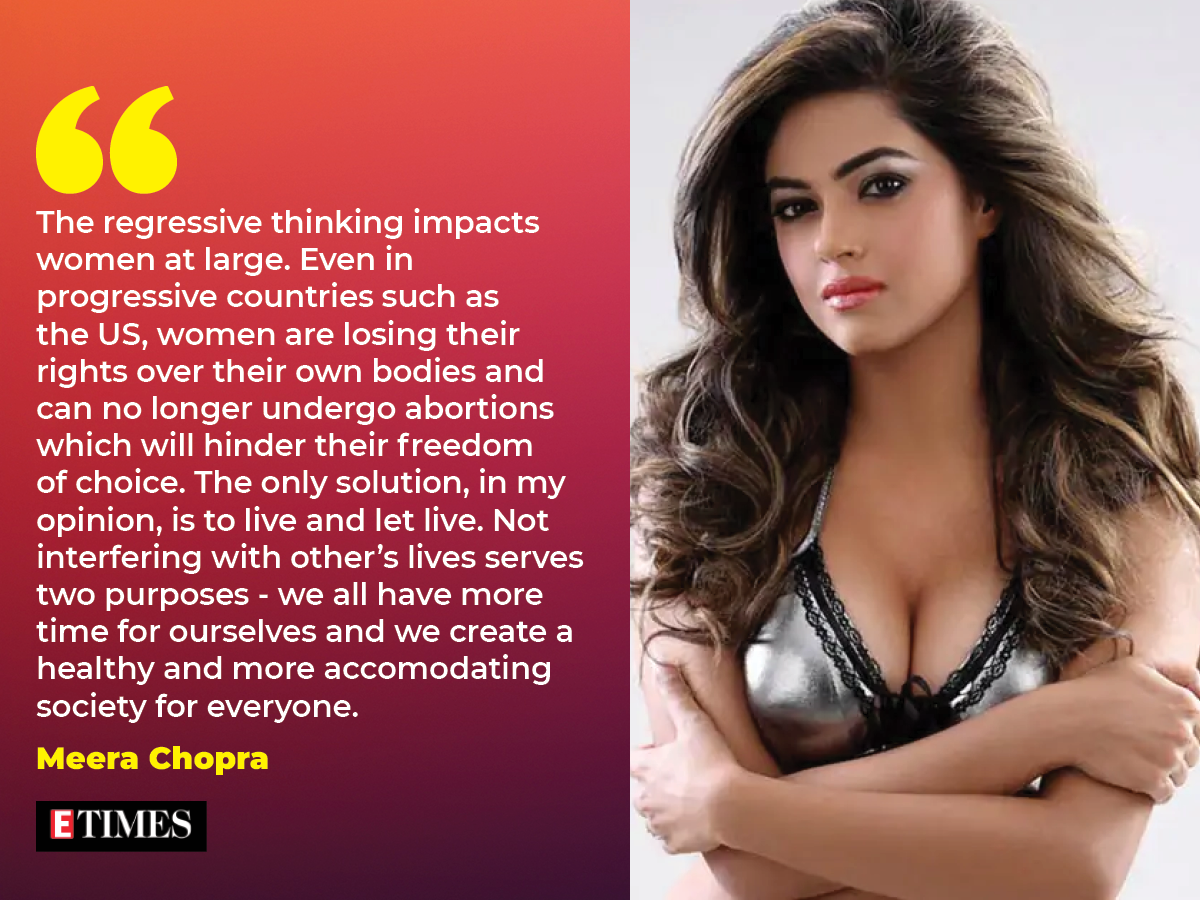 Tisca Chopra has always been outspoken about social issues, especially those pertaining to women. "When it comes to women, everyone has a say in what they wear, where they go, what work is 'good' work. Luckily, women aren't looking for acceptability, like they were decades ago. You like what we do? Great! You don't? Well too bad, we are doing it anyway," she says.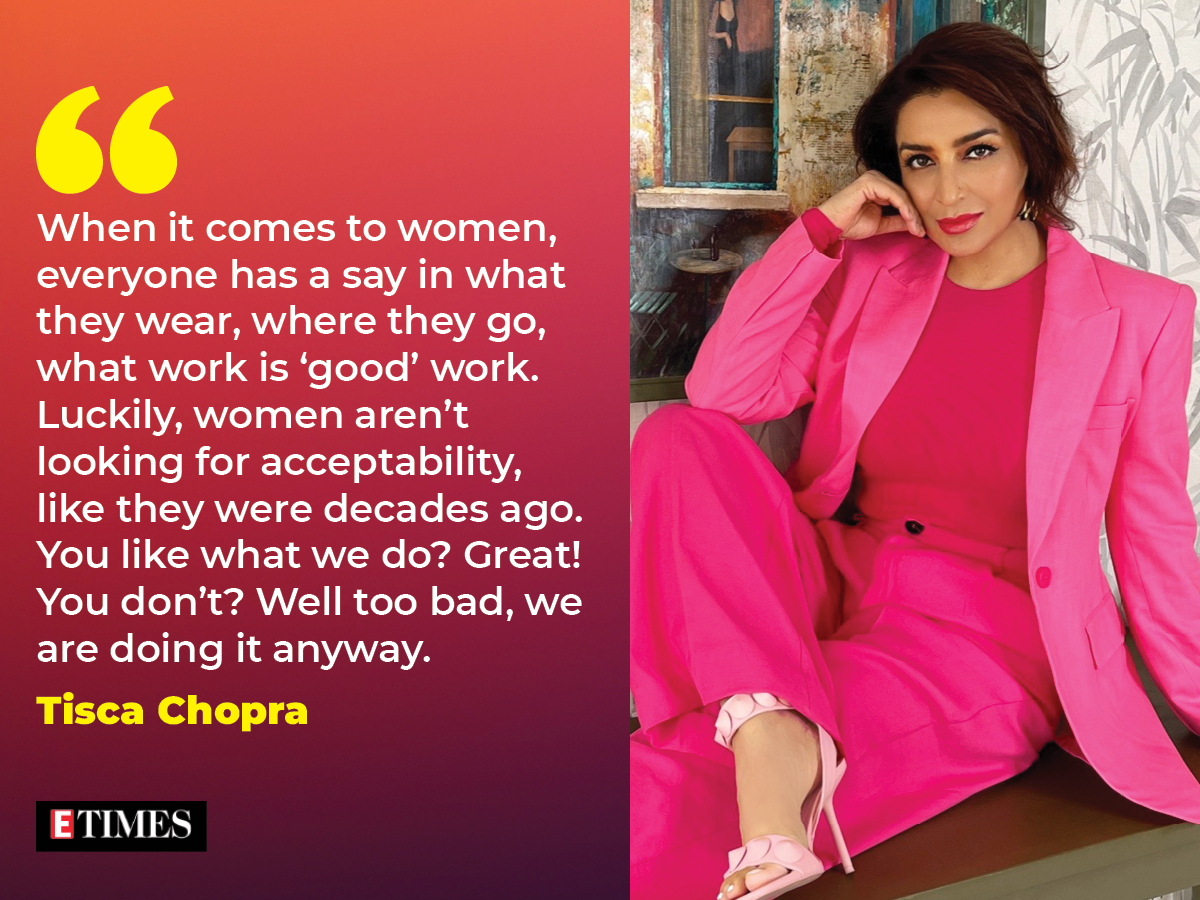 Somy Ali is another extremely liberal minded woman. She says she has no qualms talking about her relationships and about saying that both parties consensually engaged in pre-marital sex. "For me this is not even a subject where I would get on a soapbox and pontificate. It's so completely ridiculous because pre-marital sex has been around and will be around forever in every country and culture. I have nothing against it and will never be an armchair warrior judging those who engage in it. It's none of my or anybody's business what people do behind closed doors. No one and I mean no one is a saint, but these hypocrites are the first ones and the fastest to jump online and judge how others choose to lead their lives," she says.
Faceless trolls
As if the barbs in the form of taunts and judgements in the offline world weren't enough, the big bad world of the internet gave a lot more freedom for people to share their toxic opinions with the power of anonymity. "Unfortunately, it's happening all over the world," says Dia Mirza, adding, "It's one of the byproducts of social media, the fact that people have access to us, to say whatever they want. Alongside that, it's also a practice that is revealing, holding a mirror to us as a society. It tells us how regressive we can be, how thoughtless and unkind and unfeeling we can be. And I think such kind of trolling has definitely given me an opportunity to question things, to make people think better. I thought it was extremely important that Alia reacted the way she did recently and I know that Neha has done it. I know so many women who have stood up for themselves and not put up with the trolling. I know Swara Bhasker does it. It's important not to be intimidated by faceless people and their vitriol and at the same time it is important to recognise the fact that such thoughts and minds exist within us. So we need to fix that and do better."
It is difficult being a woman in general even in 2022, let alone being a mother and a wife while you are constantly and unwillingly in the limelight due to your past or current profession. The belittling and the trolling are here to stay. "This isn't a trivial matter and much needs to be done about it or this will be the cause of major depression and yes, suicides. The issue is how easy the internet has made for people with sadistic and sociopathic tendencies to act out. These individuals are dangerous, and they need help, but we can't find them the same way we don't know when there will be a next terrorist attack, rape, or a murder. We are living in extremely dangerous times and the internet is the number one source to be blamed for these atrocities," says Somy Ali.
Tisca Chopra adds, "Pulling achieving women down makes certain types of men feel a smidgen of their earlier power, but it's kind of lame and laughable now."
Can the mindsets change?
The culture in which you live has its power over the collective consciousness of the people to live within that cultural space. It is like the law of gravity. You cannot deny that it has its physical power over your physiological frame. Similarly, the cultural beliefs of a particular society does impinge on every individual. However, there are brave individuals who have stepped out and dared to live their life on their own terms. An industry insider who's also a keen social observer, on condition of anonymity, says, "These are the ones who have raised the bar and ushered in a new way of life and a new way of thinking. You can't generalise and say that there is a collective consciousness which has delinked itself from the patriarchal system that governs the human race. But there are pockets within our own country, not necessarily of the privileged class, but even in the weaker sections there are individuals who have dared to break away from that and live life on their own terms. But it requires audacity and to do that I feel the more things change, they also remain the same."
"Today, these laws of the bygone days are merely cosmetic. You aren't actually governed by them. They have outlived their purpose and I think the younger India is living by its own rules. There was a time when live-in couples were looked upon with disdain. Now that's a thing of the past. In the age of this unstoppable change where everything is changing in the blink of an eye, the moral values that were governing our ancestors or us are no longer the ones that are weighing like an albatross down the neck of the youngsters of today," adds the insider.
Shabana Azmi believes how we raise our daughters and sons is the key to change. "If you have a country like US legislate against abortion, you take away from the woman her basic right to make decisions about her own body. Frankly, celebrities don't have it as bad as women who are not in the limelight do. Think of the young girl in middle class society who goes out to work late hours to earn a living. How much more difficult it is for her. Sisterhood, women getting together collectively speaking about these issues instead of hiding them under the carpet should be encouraged. The root cause is patriarchal thinking in societies where a boy is entitled over the girl just for being born male. Strengthening education, economic empowerment are the foundation," she says.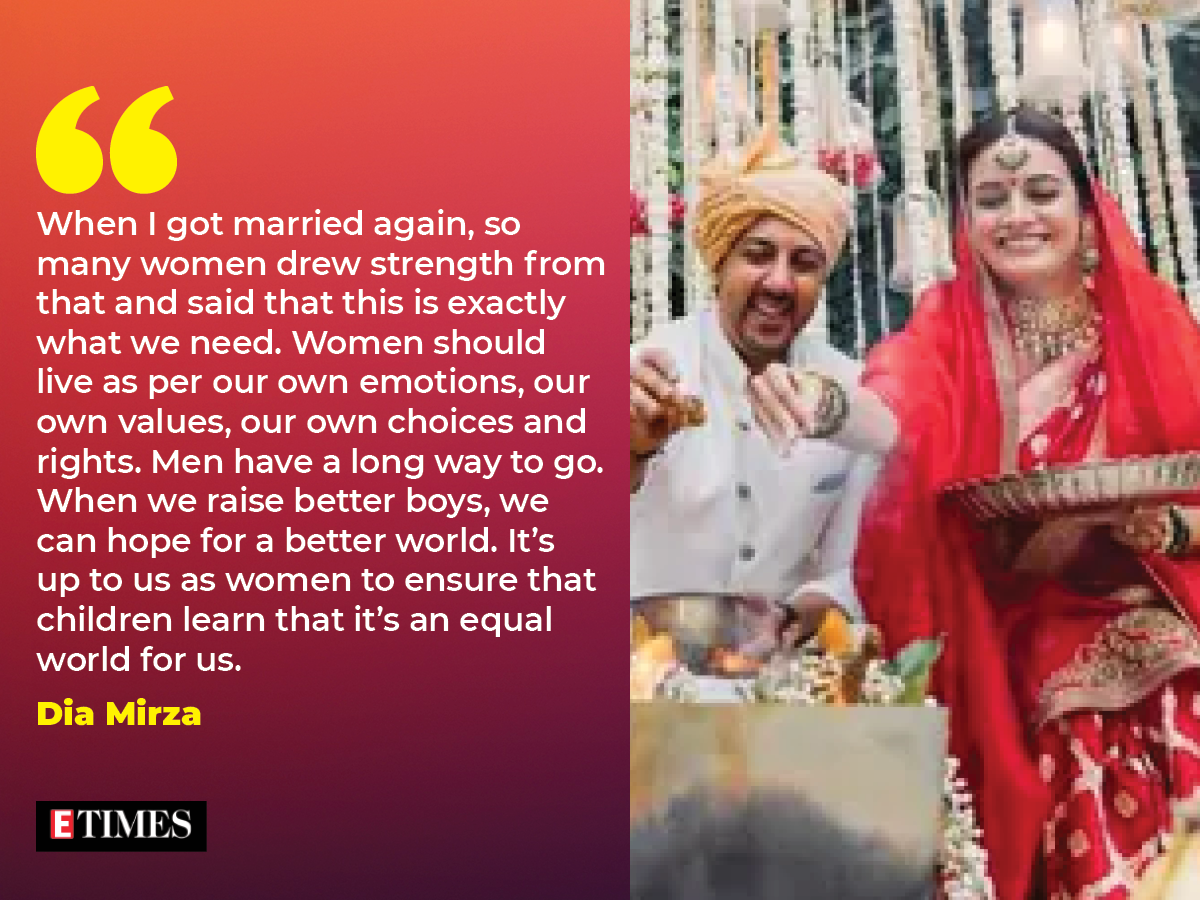 Dia Mirza opines we need to raise our sons better to hope for a better world. "I think every one of us who continues to live life on our own terms and do what we want to, we are dispelling these myths, we are busting these theories standing up for ourselves. Doing so, I hope we are encouraging many more women. When I got married again, so many women drew strength from that and said that this is exactly what we need. Kuch toh log kahenge, logon ka kaam hai kehna. We women should live as per our own emotions, our own values, our own choices and rights. Patriarchy exists everywhere. Men have a long way to go. When we raise better boys, we can hope for a better world. It's up to us as women to ensure that children learn that it's an equal world for us," she says.
Tisca Chopra believes the biggest factor in bringing about a change in the outlook towards women is the economic freedom women have purchased for themselves. "Physical strength isn't, if any consequence now, because it takes the same amount of strength and skill to work a keyboard. Being a man doesn't make you able to protect, or provide any more. It's a leveller playing field than it has ever been before. Now what matters is communication skills, general smartness, focus and talent – all of which women have in spadefuls! Yet the lingering effects of the gender skew affects all of us, but less and less. Fingers crossed, our daughters won't have to worry about this crap no more!" she says.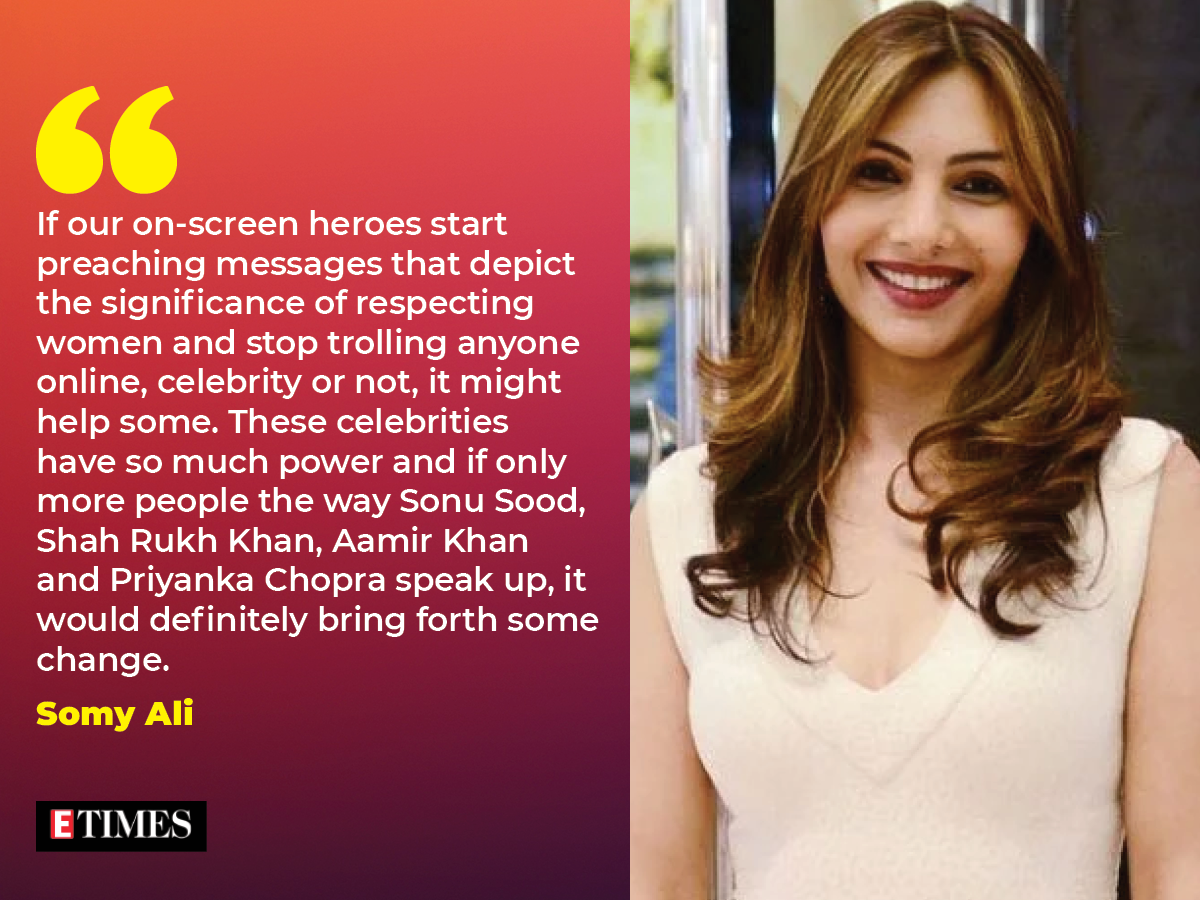 Till a few years ago Somy Ali believed that education is the answer to all injustices. While she still abides by that statement and thought process, she says she was astonished to see barbarism depicted toward women and young girls even by the educated and the elitist. "Look at Jeffrey Epstein, Bill Cosby, Kevin Spacey, Bill Clinton, Harvey Weinstein, and so many others who are significantly educated and have highly esteemed professions. As for not dictating what one should or should not do, that is not going to be accomplished very easily. Along with education, mindsets have to be changed and these can only be changed by male voices who have the platforms and the clout like Amitabh Bachchan's character in 'PINK'. If our on-screen heroes start preaching messages that depict the significance of respecting women and stop trolling anyone online, celebrity or not, it might help some. People with power need to speak up and call out these trolls and speak about what justice looks like. These celebrities have so much power and if only more people the way Sonu Sood, Shah Rukh Khan, Aamir Khan and Priyanka Chopra speak up, it would definitely bring forth some change. But yet again, much work needs to be done. Saying you will do something and actually acting upon it are like night and day," she concludes.