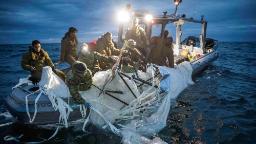 CNN
 — 

The US Commerce Department is restricting six Chinese companies tied to the Chinese army's aerospace programs from obtaining US technology without government authorization.
The move comes after a Chinese balloon suspected of carrying out surveillance flew over the US last week, raising political tensions between the world's two largest economies.
US fighter jets shot down the balloon, which American officials have since claimed is part of an extensive surveillance program run by the Chinese military.
The six companies support the Chinese government's "modernization efforts, specifically those related to aerospace programs, including airships and balloons and related materials and components, that are used by the People's Liberation Army (PLA) for intelligence and reconnaissance," the Commerce Department's Bureau of Industry and Security said in a statement.
The six companies are: Beijing Nanjiang Aerospace Technology; China Electronics Technology Group Corporation 48th Research Institute; Dongguan Lingkong Remote Sensing Technology; Eagles Men Aviation Science and Technology Group; Guangzhou Tian-Hai-Xiang Aviation Technology; and Shanxi Eagles Men Aviation Science and Technology Group.
The inclusion of the companies on the Commerce Department's "Entity List," sends "a clear message to companies, governments, and other stakeholders globally that the entities on the list present a threat to national security," the statement said.
"The Commerce Department will not hesitate to continue to use the Entity List and our other regulatory and enforcement tools to protect US national security and sovereignty," Deputy Secretary of Commerce Don Graves said in the statement.
"The Entity List is a powerful tool for identifying and cutting off actors that seek to use their access to global markets to do harm and threaten American national security."
China's "use of high-altitude balloons violates our sovereignty and threatens US national security," Under Secretary of Commerce for Industry and Security Alan Estevez said.
"Today's action makes clear that entities that seek to harm US national security and sovereignty will be cut off from accessing US technologies."
CNN has reached out to the companies involved and the Chinese government for comment.